Garage door springs repair is a delicate matter. Getting the garage door springs repaired incorrectly would be a major inconvenience. When your garage door stops working, you need to contact The Garage Door Experts, skilled in repairing springs.
Garage Door Springs Repair Service in Maple Grove, MN
 All of the employees at The Garage Door Experts have been carefully trained to provide you with the highest quality springs repair in the area. You can be certain of that. Regardless of what problem you may have with springs, we are here to help. Spring might be broken, so you have to hire a spring repair team to fix it. Does your door need new springs? If the garage door drops accidentally on you, you can be seriously hurt, so we don't recommend you handle it yourself. There is the possibility that the springs in the door may have snapped. You can count on us to help. Nobody can match the team we have working for you!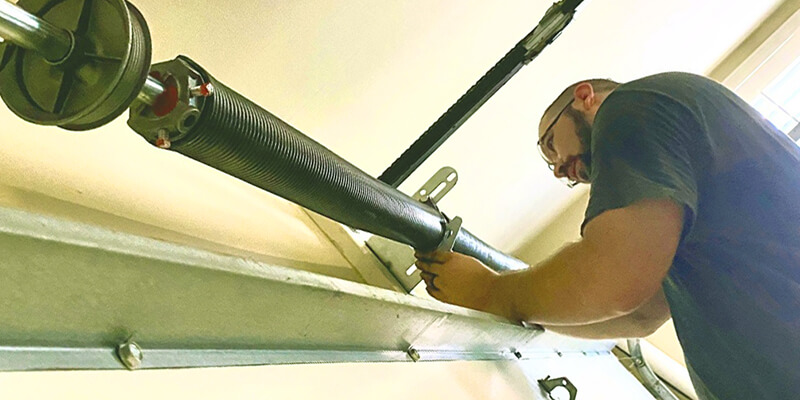 We Can Fix Broken Garage Door Springs
 If you need assistance with any issue relating to your entry door, our team is always available. Therefore, you shouldn't worry about it. Each time you call us with a door spring in need of repair, we make sure our staff is qualified to do their work. Consequently, you will never have to contact an expert again to fix broken springs. The members of our springs repair team have access to the latest technology and tools to help you.
Garage Door Spring Repair – We Can Do It!
Garage door springs are one of the most common problems in the city. Over the past few years, we have worked hard to achieve quality recognition. For any emergency related to your door springs, you can call Maple Grove garage door expert staff. We can also help to fix nonfunctional springs. When springs break, you have to fix them, which is very inconvenient. Manually lowering the door is never a good idea. Don't worry about it, our experts will repair or replace your springs according to the situation. Don't hesitate to contact us if you need assistance.
Professionals Can Change Garage Door Springs
Springs shouldn't need to be changed on a regular basis. Occasionally, however, they do break. Changing springs is the last thing that you want to do while you're raising your garage gate manually. There is nothing charming about it. No more worries now. Our team of springs repair professionals is all you have to do to solve that frustrating problem. We will make it right as soon as possible, so you are not at risk.
Snapped Garage Door Spring? Let the Local Experts Help!
Our springs repair technicians are the best in the business. This is largely due to the fact that each member of our team is very detail-oriented. Feel free to ask for help because the springs on your door are broken, and it can be dangerous. You can count on us to provide only the best service. All of our technicians are equipped with the most current tools in the industry so that they can help you as effectively and efficiently as possible when the spring snaps. Give us a call right now to schedule an appointment!
24/7 Access to Us in Maple Grove, MN
An emergency situation is a situation in which the last thing you need is someone to tell you that help will not arrive until the next day. Do not be alarmed, however. Professionals are always available to respond to your needs.
The Finest Garage Door Springs Repair Crew
 Regardless of the issue, you may have with your entry door, our springs repair team is always ready to assist you. It is certain that we will do our best to help you. Whenever you call us for spring repair work, we make sure that our team of experienced professionals does the job correctly from start to end.  Whenever something goes wrong with the project, you will call us again. Other crews might mess up the project, but not us! Our garage door springs technicians are equipped with the most advanced tools for the job.
How Do You Fix Torsion Springs on a Garage Door? Let Us Help!
Our garage door springs repair technicians provide the most comprehensive services in the region. During the last couple of years, we have diligently worked to earn the trust of our clients. Our crew will be able to help you with any emergency you have with your garage, which could be a torsion spring issue. There are times when garage door torsion springs snap, and that can be rather unpleasant. Lifting the garage door manually can be quite exhausting. However, it is not impossible. A local technician is always on hand to help you out.