Garage door problems are inconvenient and sometimes dangerous. The Garage Door Experts offers 24-hour emergency service because we understand that entry door service repair can pop up at any time. You can count on our emergency garage door service repair whenever you need them. We are 24/7 ready for your garage door service repair help. We will never disappoint you when you hire us for your repair services.
Broken Garage Door Springs or Cables
In addition to their heavyweight, entry doors have powerful springs and cables. A malfunctioning door and tension in the spring create an extremely hazardous situation. Would you like to repair the door yourself? It might be risky. In order for your garage door to work safely again, our experts replace broken springs and cables. Call us for a spring repair service instead of an amateur.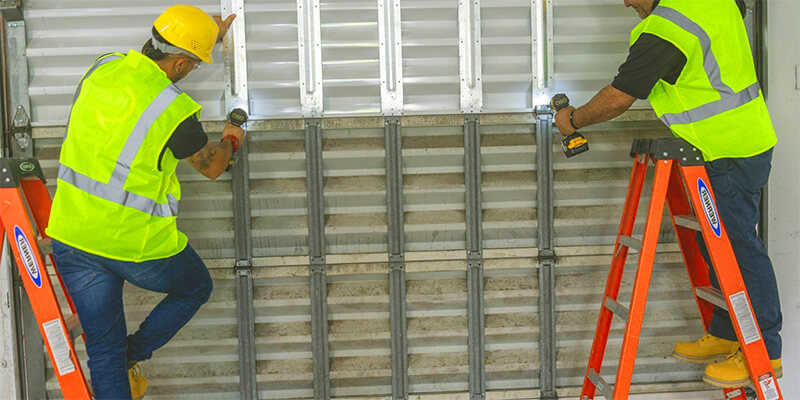 Garage Door Service Repair – Bent Garage Door Tracks
There are many parts that go into making a door swing upward and downward, including tracks and rollers. The rollers will not travel smoothly when one or more tracks on the vertical, horizontal, or curved sides are bent. Bent or misaligned tracks can damage the door.
You might be tempted to use a hammer or crowbar to reverse a minor bend. However, a professional can align the tracks correctly. Replacing a section of track on your own is not recommended.  When removed even in small sections, the entry door can fall, potentially causing grave injury or death. Call our Maple Grove garage door experts now.
Garage Door Openers that Malfunction
Convenience and security are provided by openers. However, if they malfunction, they are nothing but a frustrating nuisance. If you need help troubleshooting a door, whether it's a dead wall switch, a non-functioning remote control, or a door not moving the way it should, The Garage Door Experts can help.
Garage Door Service Repair – The Garage Door Lock Doesn't Work
The lock on your door may need to be replaced occasionally if you use a lock rather than an automatic opener. The keys can become especially difficult to use if the locking bars and locks become misaligned over time. Choosing a locking kit that is secure will prevent your malfunctioning lock from letting you down.
Repair of Garage Doors in an Emergency
Repairing entry doors is an urgent matter. Getting out of your garage in a hurry is impossible when the door will not open. Whether you are rushing to an important meeting or picking up the kids. You have to open that door.
The door won't close, so maybe you need it to. Intruders and break-ins can cause damage to your house if you leave it exposed. Keeping unwanted people and pests out of your garage requires an entry door that is sufficiently secure.
The experts at The Garage Door Experts in Maple Grove, MN can help, any day of the week. Our entry door service repair is available 24/7, so call us today to discuss your immediate concern.
The Repair of an Off-Track Garage Door
Searching online for suggestions to repair your off-track entry door is easy. However, it is always best to utilize the services of a professional to complete this kind of work. Damaged doors are heavy and, if not inspected and repaired properly, can cause serious injury.
You could adjust the screws or the track position to fix minor problems. These problems like rubbing, binding, or gapping, but the problem can be much more complex than you think. The cause and solution of an off-track door need to determine by an experienced professional.
Repairing and Replacing Garage Door Openers
You may assume that you need a new door as soon as your garage door stops working properly. However, it may be possible to fix the problem by replacing or repairing the opener. We offer maintenance, installation, and repair services to residents in Maple Grove, MN, and the surrounding areas.
Garage Door Spring Repair in Maple Grove, MN,
If you want to learn how garage door springs repair is, you can watch a DIY video on YouTube about any topic. Despite the fact that you can watch a professional do the job or follow instructions systematically. This does not imply that you can safely do it yourself. In order to repair or replace springs effectively, a thorough formula must be followed, which includes selecting the proper type and winding the springs appropriately.
For proper garage door repairs, it is crucial that you seek the services of an expert, who can accurately diagnose the problem. It is imperative that entry door technicians understand the precautions to take during door repairs and the dangers involved.